Confession: This month I became obsessed with YouTube beauty bloggers. I've been watching Tanya Burr, Zoella, Vivianna Does Make-up, I Covet Thee, Fleur de Force, et cetera, et cetera, the list goes on and on. Which is why I became significantly more interested in beauty products than before. I usually just went to the nearest drugstore and bought something I needed, or followed a friend's advice, plus my mum is a huge beauty lover, so I get some things from her as well. Don't get me wrong, this doesn't mean I used to be completely uninterested when it came to beauty, I just always preferred to spend my money on clothes than beauty products. I guess this is going to change a bit now, because I see there's sooo many products that can make my life easier, if only I do a bit of research. :)
Also something I love most about YT beauty bloggers is that yes, you get to see them with their flawless make up on, but with their natural skin as well. So you see it's nothing wrong with not wearing make-up and you're not 'ugly' because of it. Some of us feel better about ourselves when wearing make up, but there is absolutely nothing wrong with our make up-free skin, we're all still beautiful. :)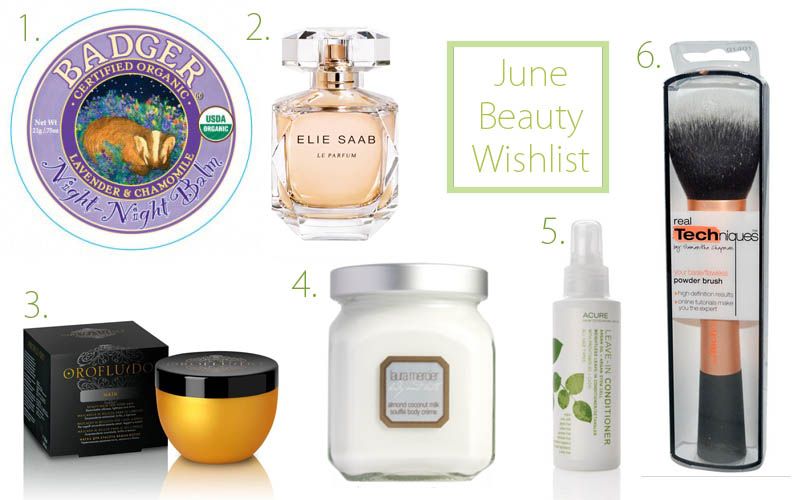 1. Badger Night-Night Balm. Sometimes I have trouble sleeping, this started occurring this month again due to exams and the general stress I've been under. I have a pouch of lavender by my pillow and I poke it a bit from time to time and it instantly calms me down. I don't know what it is with lavender, some people just don't get this calming, sleepy feeling with it. I personally do, I used to have a body shampoo with lavender that was supposed to help you sleep and I felt this nice tiredness everytime I showered with it, maybe it was just psychological, but I really love lavender. :) So I'm eager to try this balm out, it contains chamomile and lavender and you're supposed to smear it under your nose a bit and it helps you sleep. 4€ on iHerb.com.
2. Elie Saab perfume. This has been on my wishlist for quite some time, because I'm running out of my Chloé Love perfume. It has floral notes and I suck at describing these things, because I can't recognize anything and I have no idea how to do this, but yeah. I want it! :) app. 40€ for 30 ml on feelunique.com.
3. Orofluido hair mask. This hair mask is supposed to leave your hair silky smooth, shiny and repaired. It reduces the electrostatic charge, which I love, love, love. I hate when my hair get all electric, especially when I have to drag them out of a scarf I've just put around my neck and my careful brushing routine is ruined in an instant. It also has a lovely vanilla summery scent, so that's a plus, naturally. We love our hair smelling nice, don't we? :) app. 15€ on feelunique.com.
4. Laura Mercier almond coconut milk soufflé body creme. You got me, I heard of this from Tanya Burr. I adore body lotions with a nice smell and light consistency that don't leave you all greasy. I instantly thought of my mum, who also just loves nice smelling body lotions of great quality and I thought this would be a nice present for her. Unfortunately, they don't ship out of USA and I haven't found a website or a store in Europe where I could get it. 55$ on lauramercier.com.
5. Acure leave-in hair conditioner.
This wonder has argan oil and argan stem cell, which obviously works magic on your hair. I heard of this brand from the lovely
Jana
and I already have a pair of their argan oil hair shampoo and conditioner on its way to me. This leave-in conditioner has only nice reviews and I would love to try it out, since I've never used a leave-in conditioner. Plus I love that the brand is organic, that their products don't have parabens and they don't test on animals. I think at one point I had to become more aware of what I'm using and what effect it has on me and on the environment. And I'm doing that now! :)
app. 6€ on iHerb.com.
6. Real Techniques powder brush. Guess who started using mineral foundation? This girl! *pointing at myself* :) I ordered a pack of 3 sample sized Lily Lolo mineral foundations and got a baby buki brush with it as well, but they're all so tiny it's dificult to work with them. When I decide on one shade (which will probably be Blondie according to my experience so far) I'll invest in a powder brush as well, I think it will be heaps easier to work with. I already have the RT liquid foundation brush on its way to me, because I don't want to use my fingers to apply any kind of make up anymore, I think brushes are the most hygienic choice, especially if you clean them regularly. 7€ on iHerb.com.
In other news, I'm obviously occupied with exams at the moment, I have to say some are not going as good as I hoped, maybe it's because I'm so sick of everything and it's hard to concentrate and realize my maximum potential. So there have been some disappointments, at Uni and in life in general, which is why I'm so happy to be at home and enjoying a few days here, because this month has been super hectic. I also got a bit ill, I've been having headaches and trouble sleeping and I literally call this 'home therapy', because it is truly therapeutic coming home and just relaxing, being surrounded by family. This always recharges my batteries and provides a 'refuge', which has become a sort of a regular necessary thing in my life, when I just need to hide away from everything for a while. So here's to home therapy and better things to come, I hope you're all feeling alright and enjoying the lovely weather we've been having. :)
Talk to you soon,
N. xx