Hello!
Tomorrow I'm (finally!) going on holiday. Nothing fancy, just your average family vacation at the beach. I stocked up on books, because I know that basically all I'll be doing will be eating, sleeping, lying on the beach, watching TV shows and reading. What will be on your reading list this summer?
Here are my choices for the upcoming week.
All plot descriptions are from goodreads.com.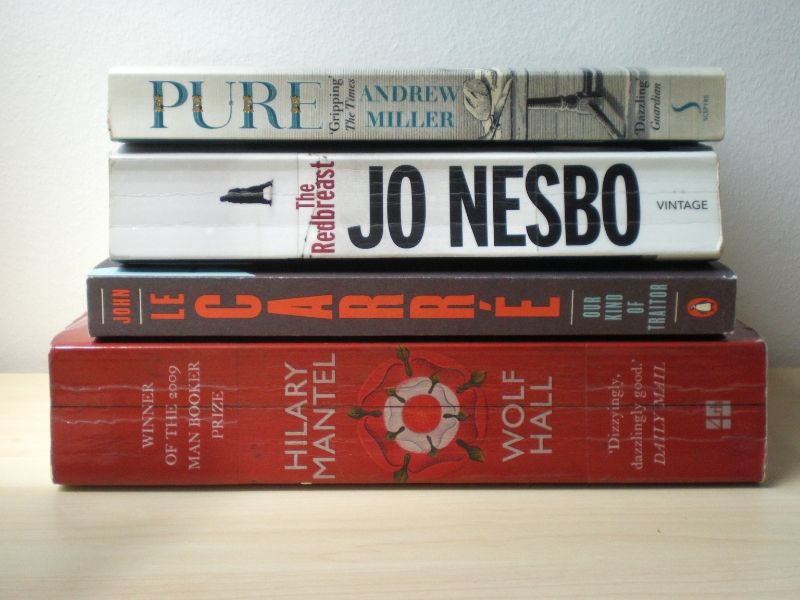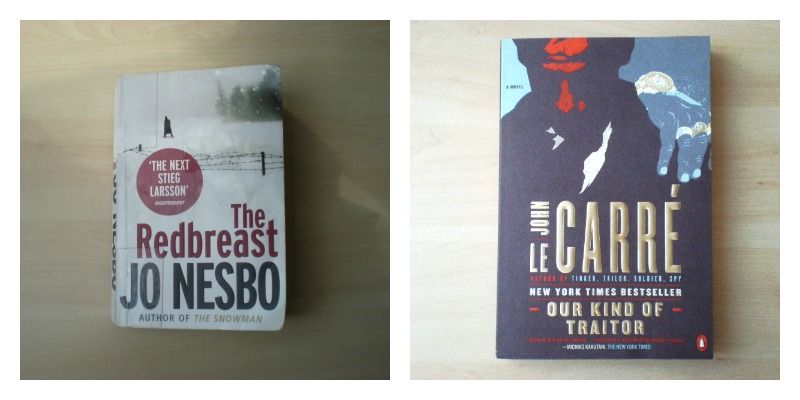 1944: Daniel, a soldier, legendary among the Norwegians fighting the advance of Bolshevism on the Russian front, is killed. Two years later, a wounded soldier wakes up in a Vienna hospital. He becomes involved with a young nurse, the consequences of which will ripple forward to the turn of the next century.
1999: Harry Hole, alone again after having caused an embarrassment in the line of duty, has been promoted to inspector and is lumbered with surveillance duties. He is assigned the task of monitoring neo-Nazi activities; fairly mundane until a report of a rare and unusual gun being fired sparks his interest. Ellen Gjelten, his partner, makes a startling discovery. Then a former soldier is found with his throat cut. In a quest that takes him to South Africa and Vienna, Harry finds himself perpetually one step behind the killer. He will be both winner and loser by the novel's nail-biting conclusion.
The Redbreast
won the Glass Key prize for the best Nordic crime novel when it was first published, and was subsequently voted Norway's best crime novel.
The Devil's Star
, Nesbø's first novel featuring Harry Hole to be translated into English, marked Nesbø as a writer to watch in the ever more fashionable world of Nordic crime.
John le Carré: OUR KIND OF TRAITOR
The unrivaled master of spy fiction returns with a taut and suspenseful tale of dirty money and dirtier politics.
For nearly half a century, John le Carré's limitless imagination has enthralled millions of readers and moviegoers around the globe. From the cold war to the bitter fruits of colonialism to unrest in the Middle East, he has reinvented the spy novel again and again. Now, le Carré makes his Viking debut with a stunning tour-de- force that only a craftsman of his caliber could pen. As menacing and flawlessly paced as
The Little Drummer Girl
and as morally complex as
The Constant Gardener, Our Kind of Traitor
is signature le Carré.
Perry and Gail are idealistic and very much in love when they splurge on a tennis vacation at a posh beach resort in Antigua. But the charm begins to pall when a big-time Russian money launderer enlists their help to defect. In exchange for amnesty, Dima is ready to rat out his
vory
(Russian criminal brotherhood) compatriots and expose corruption throughout the so-called legitimate financial and political worlds. Soon, the guileless couple find themselves pawns in a deadly endgame whose outcome will be determined by the victor of the British Secret Service's ruthless internecine battles.
Hilary Mantel: WOLF HALL
Winner of the Man Booker Prize for Fiction, 2009.
Tudor England. Henry VIII is on the throne, but has no heir. Cardinal Wolsey is charged with securing his divorce. Into this atmosphere of distrust comes Thomas Cromwell - a man as ruthlessly ambitious in his wider politics as he is for himself. His reforming agenda is carried out in the grip of a self-interested parliament and a king who fluctuates between romantic passions and murderous rages.
Andrew Miller: PURE
Deep in the heart of Paris, its oldest cemetery is, by 1785, overflowing, tainting the very breath of those who live nearby. Into their midst comes Jean-Baptiste Baratte, a young, provincial engineer charged by the king with demolishing it.
At first Baratte sees this as a chance to clear the burden of history, a fitting task for a modern man of reason. But before long, he begins to suspect that the destruction of the cemetery might be a prelude to his own.