Hello!
As I mentioned in my previous post, I'm spending my vacation on an island in Croatia. The ride here was kinda awful, I had to go by myself because I had some errands to run when my family already left and I had to take a bus and drive for 7 hours to finally arrive at 3 AM, and I still had to wait three hours for the ferry to take me to the island. Needless to say, when I finally arrived to our house, the first thing I did was go to bed and drift off. I can never sleep on buses, in my opinion they're the worst transportation when it comes to comfort.
We're staying here until Saturday and I'm enjoying my time at the beach, reading, playing with kids, swimming, etc. A well deserved (or at least eagerly expected) vacation. As always, I bring a lot of stuff to the beach (contrary to my brother who only needs his bathing trunks and a towel), here are my essentials!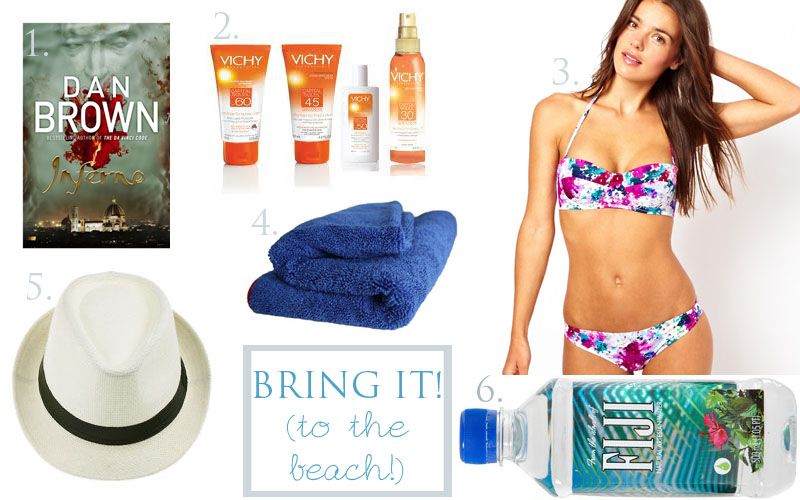 1. A good book. I have quite a few books with me, but I forgot to order the new one by Dan Brown. I've read all of his other books and he usually writes good reads for the beach, so I'll get to it when I get home.
2. Sunscreen. I learned my lesson when it comes to sun and tanning a few years ago when I got such horrible sun burns that I got blisters all over my shoulders. It was absolutely horrible and from then on I am really careful at the beach and I always put on sunscreen, stay in the shade and avoid being in the sun from 11 to 15. I know everyone wants to be tanned but ruining your skin with excessive tanning really isn't worth it. We can still resort to St.Tropez, Xen Tan and other really good self tanners.
3. Cute swimwear. Aren't these bathing suits from ASOS just the cuuuutest? :)
4. A towel. Be cooler than me and ditch the 10-year-old Harry Potter and Hello Kitty towels!
5. A hat. Protect your lovely hair from the damaging sun and your lovely head from headaches!
6. Water. To hydrate yourself in the heat. It doesn't have to be Fiji, water is water. :)
And the most important thing that I forgot to include: money for ice cream! Be careful in the sun, enjoy your time off, leave your phone and don't let anyone bother you, and you got yourself a pretty nice vacation. :)
Kisses!
N. xx