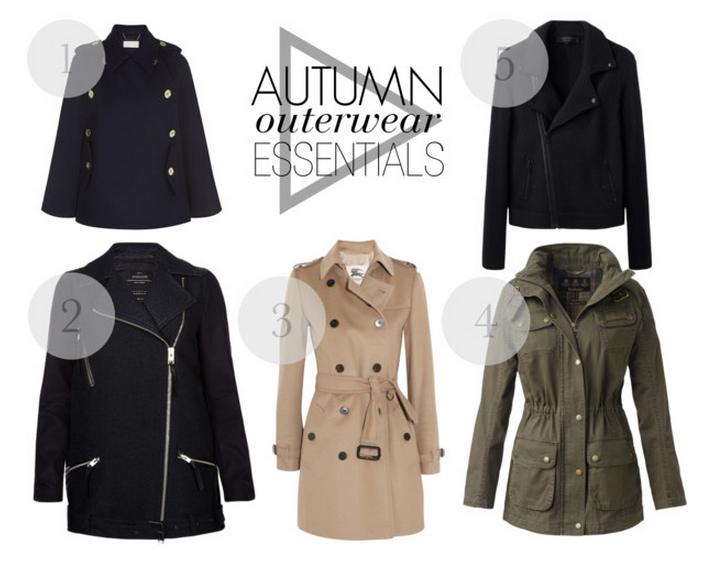 1. Michael Kors cape, 410€ | 2. AllSaints biker jacket, 475€ | 3. Burberry London mid-length wool cashmere blend trench coat, 975€ | 4. Barbour parka, 329€ | 5. Rag & Bone biker jacket, 450€
The last few days of me shivering at home, outside, everywhere made me realize summer is really, really gone for the year and it's time for autumn. Oh, the time of comfy sweaters over your favourite pair of jeans, boots, hats, soft scarves and warm coats! I'm a sucker for autumn/winter outerwear and it comes as no surprise that I'm all over classic pieces, which I would love to see wind up in my wardrobe (preferably not massively bruising my bank account along the way as the picks on the collage would).
What I've been literally dreaming about for the past few weeks is a sleek, sophisticated black coat with gold details. And maybe just a tad bit of leather even if I'm not a leather girl and I always think I can't pull it off. It surprised me to see this was on the top of my list, because for the past few years, I've had other pieces rading my mind: from classy capes, trenches and stylish biker jackets to olive-green military style parkas, burgundy coloured fluffy quilted parkas and what-not. When your fashion wishlist is all over the place, ridden with last year's trends you still kinda dig and upcoming trends you don't know yet if you love or hate, it's difficult to keep your cool, think over what you're going to invest in (because us, common peasants can't afford to buy 5 or 6 different autumn outerwear pieces for each occasion) and avoid an expensive impulse buy in the process.
What are your outerwear essentials for the upcoming season? :)
Love,
N. xx