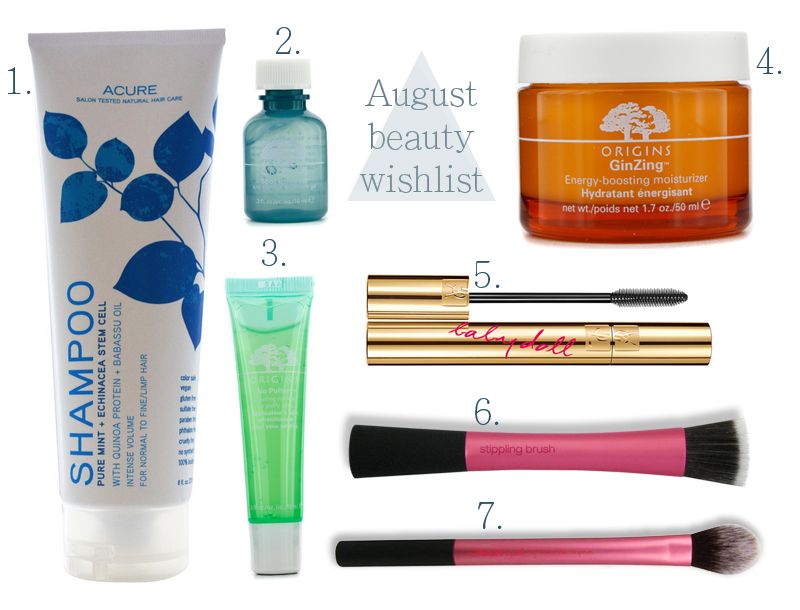 I just realized the picture says August beauty wishlist, it's because I've been keeping this post hidden for way too long. Better late than never, right? :)
1.
Acure Pure Mint and Echinacea Stem Cell Shampoo
,
8,62$ at iHerb.com
I ran out of my Acure argan oil shampoo and I'm left with a nearly whole tube of the conditioner. Anyone else feel like matching shampoos and conditioners shouldn't come in same sized bottles? Whenever I buy a pair, I'm stuck with leftover conditioner. That's why I'll probably just buy this mint shampoo and won't bother with the conditioner. I remember once buying a Head&Shoulders mint shampoo and it cooled my whole scalp, it was so refreshing and soothing!
For the past few days I've been using the Sensilab little anti blemish tube and it worked nicely, but I would love to try the Origins one as well, since I heard only good things about it on blogs and youtube channels. Plus it comes in such a lovely little bottle. :)
Oh puffy eyes, you get on my nerves oh so much. Sometimes when I wake up (especially after a night out or sleeping waay too long), I literally scare myself in the mirror with my under-eye bags and puffiness on my eyes. Like it's not annoying enough to get the occasional comment I have eyes as small as a mole. Even if I don't necessarily feel like that, but others apparently do, so yeah. I've mentioned I really want the Origins GinZing Refreshing Eye Cream to brighten and depuff, but 36€ for 15ml sounds a bit crazy to me, so I guess I'll have to write Santa about it or wait until I catch a wealthy heir or something. Just kidding, obvi. I might try this roll-on, it seems like a good substitute.
I heard about this on you tube of course, and everyone says they can't live without it anymore, because it freshens up and brightens the face when it needs it the most. Doesn't that sound amazing? I mean, who wouldn't want that on their skin? I have a giant crush on Origins products and I'm so annoyed I can't seem to find any store in Slovenia (online or other) that would stock or ship their products to my country. The only one I found is strawberry.net, but I'm kind of sceptic about it. I prefer online shops that look professional and well put together, this just looks a tad dodgy to me. Does anyone have any experience, especially my Slovene readers? Please let me know.
I heard I probably won't be able to buy my L'Oréal Telescopic mascara anymore, which sucks, because it was/is(?) really good and it made the looongest lashes. I recently discovered this mascara and it is suitable for contact lens wearers, which is perfect for me. The only thing that bothers me is the price, but I guess a girl can splurge every once in a while, I bought a high end mascara twice and it was the Dior Diorshow mascara and it was really good and totally lived up to the hype and it's price. Nevertheless, if you have any mascara favourites, feel free to advise me on what to get! :)
In comparison to other beauty bloggers and youtubers, I have a shameful number of RT brushes. Just one. My expert face brush is doing magic with my Diorskin Nude BB creme, but the airbrushed effect the RT stippling brush promises just sounds so inviting. It can be used for foundation, blusher, bronzer, you name it.
I just started using a highlighter with my regular make-up routine and I usually apply it with my fingers, but to be honest, I really don't like messing with my make-up products with my fingers, I just prefer to use a brush. The RT setting brush would be lovely for highlighting and setting my under-eye concealer, which is desperately needed after a sleepless night and I hate it when it creases. Oh and remember the Pukka night time tea I mentioned in my previous post? It works wonders, I brewed one cup and I fell asleep almost instantly I got into my bed, haven't had not one nasty dream, slept like a baby until 5AM and woke up rested and ready for work.
These are my current beauty wishes, a few of them are probably going to wound up with the postman eventually and I would love to hear what's on your current beauty/skincare/make-up wishlist and if you have any recomendations where to get the Origins products.
Have a super nice day!
N. xx