Yesterday night as the clock turned midnight, I received a text from a friend of mine, saying Let me be the first to say congratulations for another year of suffering. It made me smile, because life can certainly be a nasty little bitch sometimes. I admit that the last year wasn't among the best ones yet and my birthday wishes from last year clearly haven't come true. But no matter how much life beats you down, you have to stand up and fight back, instead of just turning the other cheek. That's why you gotta be like LaFayette from True Blood and say Hookah, please! and just move on. Because you're awesome. And you're gorgeous. And you will succeed eventually no matter how many obstacles you hit along the way. And you gotta wake up every morning saying I'm a bad bitch and nobody can mess with me today! Can I get an amen!
And as promised, the winner of my giveaway is: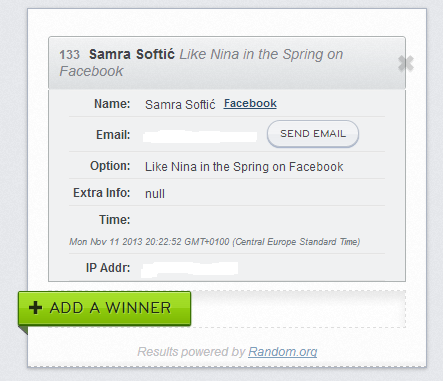 Congratz Samra, an e-mail is already waiting for you. :) Thank you to all of you who entered, if I could, I would give this package to each and everyone of you, but (as I've learned myself through countless giveaways I entered) you win some, you lose some. I promise I'll organize another giveaway soon!
Enjoy the lovely day,
N. xx