My evening routine is one of my favourite parts of the day. I usually change into PJ's, do my little routine in the bathroom, make myself a cup of tea, and put on a nice TV show. What my evening skincare routine looks like: I first remove my make up with the Biotherm micellar water and a cotton pad, then clean my face with a Greenline cleansing foam, then I take another cotton pad and swipe my face with the La Roche Posay soothing toner, to make sure all of the make up is gone. Then I apply the La Roche Posay Effaclar Duo anti-imperfections gel, which has worked really good ever since I got it in the summer last year. To finish off, I apply the Origins GinZing eye cream, which I usually use in the mornings, but I started using it in the evening as well.
The Biotherm micellar water has a really lovely scent, not too in your face, just really lovely. I used the L'Oreal micellar water before and it was good, just nothing special and I wasn't too excited about the scent of it, it was a bit weird for me. The Greenline cleansing foam I really love, I used one from Alverde before, which was pefect for the summer as it mattyfied my oily skin and left it really soft and clean, plus it had a nice scent. This one also has chamomile extracts, smells really nice, and leaves my skin super soft. I think I'll stick to cleansing foams from now on, they really work wonders for me. I started using a toner last summer, when I got worried my make up removing routine is not enough, as I could often see some leftover make up after washing my face with a towel. The Effaclar Duo obviously doesn't need any additional words as so many bloggers rave about it and with a good reason. I am preparing a review on the Origins GinZing eye cream, which will probably be uploaded on the blog at the end of the week, so stay tuned for that.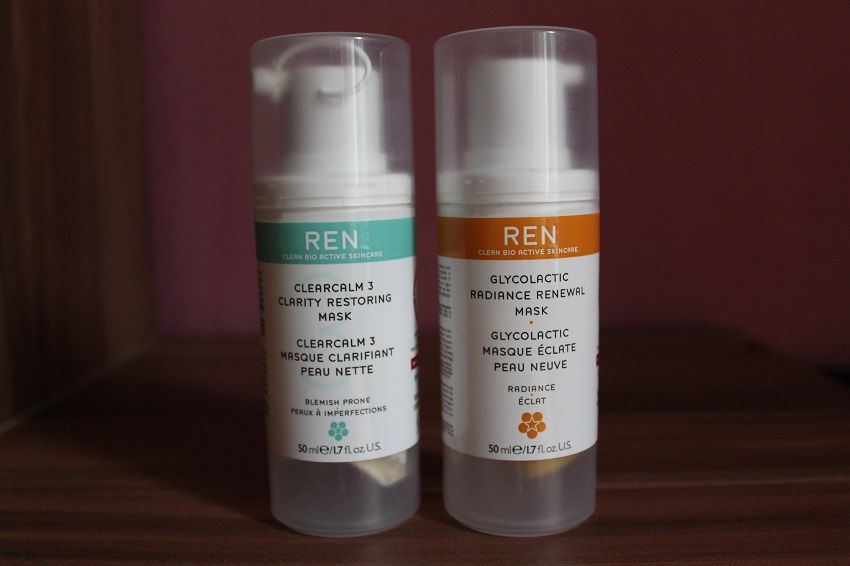 Last, but not least, I sometimes pamper myself with a face mask. My mom is a huge REN fan, so if you look in our bathroom cupboard, it will basically look like a REN counter at the drugstore. These are the two masks I've discovered. I tried out the Clearcalm 3 Clarity Restoring mask twice already and I love the herbal scent it has, I don't know, I've just become a huge lover of herbal scents. It is supposed to battle brake outs, remove excess sebum and generally deal with the bacteria fugliness going on on your face. My mom has blemish prone skin, which is why she invests in these kind of products a lot. I don't particularly have that problem anymore, and I only use this mask when I get a break out. So far I was always happy with the outcome, it calmed down my irritated skin and the blemishes cleared up quite quickly.
I used the Glycolactic Radiance Renewal mask yesterday for the very first time. I have to say I don't like the scent so much, but boy, do I love my skin after I clean it off! It genuinely gives the skin a pretty, radiant glow. It made my skin look healthier, brighter, I just kept looking at myself in the mirror from all different angles, like: is this for real? I used this only once and I'm pretty sure my mom will sooner or later have to pull it out of my hand. The only 'negative' remarks I have is the scent, which for some reason I don't particularly love, but I can live with it, and the price which is not cheap.
Do you have anything special in your evening skincare routine? :)
Love,
N.xx