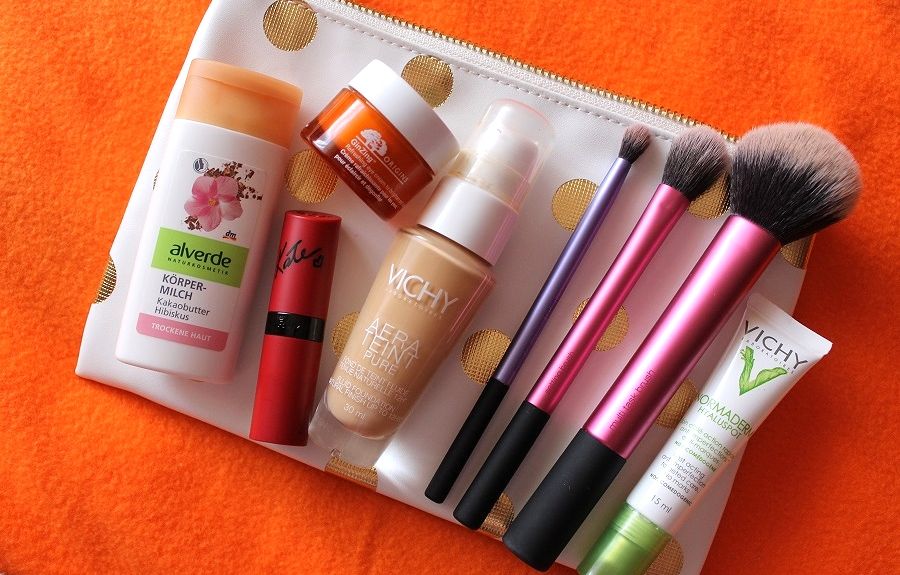 I've been stuck in a little blogger rut for the past week, not knowing what to post. Then I remembered it's almost end of the month and I can say goodbye to it with a favourites post. This month I acquired a few new products, some of which I already showed you in my London haul post. Just before I left I bought a few travel minis, one of them being this Alverde body milk with cocoa butter and hibiscus. I usually steer clear of cocoa butter ever since I had a lotion which completely ruined the smell of cocoa butter for me, but I found this combination really nice. It almost smells like chocolate and flowers at the same time. So far I really liked it, the only thing that annoys me is that it takes a while to sink in my skin. Time is money, yo!
Next is the Origins GinZing eye cream I got as a birthday present (shoutout to my girl Eda :)) and been loving ever since. I'm doing a review on it soon as it is a simply wonderful product that I couldn't recommend more. I love how fresh it is on my eyes after a sleepless night and the light reflecting particles it contains, that literally brighten up your whole face. In combination with a light reflecting under-eye concealer, this is just the bomb.
I wore this Rimmel Kate Moss long lasting lipstick (shade: 107) just once and I am already smitten. I basically bought it impulsively, Boots had a 3 for 2 promotion and I grabbed it in a hurry. It is basically the perfect just-a-tad-darker-red shade with a hint of cherry. The scent is somewhat powdery, kinda like the lipsticks you stole from your momma's cupboard as a child. I'm a through and through matte kinda gal and this has a lovely matte finish without feeling drying on the lips.
I borrowed this Vichy Aera Teint Pure liquid foundation from my mom, since she has a buch of foundations she doesn't use. I am really happy with it because it gives my skin a smooth finish, it has very nice coverage and doesn't cling to my dry patches, which is happening non stop with the Max Factor Whipped Cream foundation I bought in London. I always have to correct it with this Vichy foundation as it is also (somehow) a shade too light for me. I swatched it on the back of my hand at Boots and it seemed perfect, but apparently my hands are lighter than my face. Lesson learned.
I already showed you these Real Techniques brushes in a previous post. These three are my absolute favourites and not a day goes by when I don't use them. The essential crease brush is perfect for blending eye shadow, which I'm using more and more nowadays and it is so lightweight, it feels like air in my palm. Next is the setting brush, which I use to set my under-eye concealer and to highlight, absolutely perfect, it has been on my wishlist since forever and I couldn't be happier. It is the perfect size to set my under-eye concealer and to highlight my cheekbones, every other brush just seemed too big and clumsy. Last is the multi-task brush, which I currently use for my setting powder (all over my face) and it will probably come in handy in the summer for bronzers. I also tried applying blush with it and it did a marvelous job, all in all, a multi-task brush indeed.
For the occasional break-out I used this Vichy Normaderm Hialuspot treatment, which works perfectly on any spot I might get from time to time. I apply it directly on the spot, after my evening skincare routine, leave it to dry and go to bed. If it doesn't clear the next day, it definitely clears in the next two days.
My random favourites of this month:
I love her photos, her reviews, her entire blog, this is the epitomy of a gorgeous beauty blog right here.
Song: Beyoncé - Drunk in Love
TV Show: Modern Family
I have been literally binge watching this TV show all February. I don't even know why I stopped a few years ago and I am so happy I returned to it. My favourite characters have to be Gloria and Cam, but I love Phil as well, he's the coolest. :)
Movie: The Monuments Men
I saw this movie while I was in London and I really liked the cast, but over all, it was a bit underwhelming. I only included it because I haven't watched many movies this month and from the three movies I've seen it was the best, I guess.

I really love this girl, she is so beautiful, has an amazing fashion sense, she seems super down to earth and nice and I love her video editing. Be sure to check her out if you don't know her. :)
These are my February favourites, I hope you liked them. I got a bit inspired and a have some nice posts prepared, so to say, climbing out of my blogger rut. :)
Have a nice Thursday!
N. xx