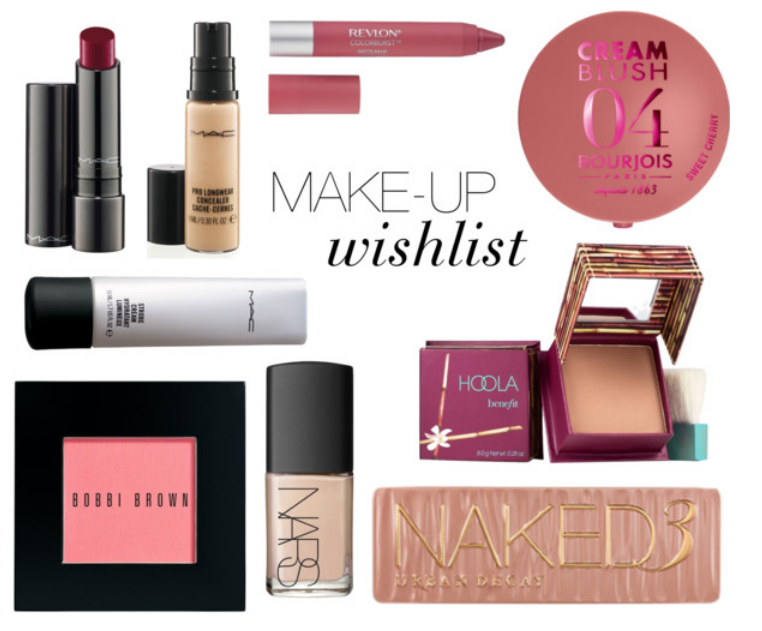 Guess where I'm going next week? LONDON, baby! :) I'm taking my little brother, because he hasn't travelled anywhere yet and I thought: where would be better to start than London? This way I'll also have a chance to do some shopping and see some sights I didn't have the chance to see last time I was there. We're thinking of going to see Stonehenge, Harry Potter studios, the Sherlock Holmes museum, etc. I have a lot of fun ideas. :) I'll also be able to see some friends I haven't seen in a long time, so I'm super excited for that as well. :)
I put together a little inspiration wishlist, I don't plan on buying all of this stuff, by the way. I'd really love to try out some brands I haven't had the chance to check out, like Benefit, Bobbi Brown, NARS and some MAC stuff. I probably won't go crazy over MAC lipsticks, because lipsticks aren't really something I need most right now (except that perfect plum shade I've been on the hunt for for ages). What I do need is a nice new bright pink blush, although I'd love to try out a cream blush as well. It pains me to see the prices of Benefit products, or the price of the Naked 3 palette. It has been on my wishlist since the moment it was released, I go absolutely bonkers for rose gold shades, but paying 50€ for an eyeshadow palette? It is really beautiful, but in my opinion ridiculously overpriced. I just got a lovely Sleek eyeshadow palette, which basically has all the shades I need and love to wear, so I'll probably abandon the thought of Naked 3 soon.
I heard of the Strobe Cream by MAC on
Shannon's YT channel
and I really loved the glow it leaves on your skin. It was an old video of hers and I realized afterwards that MAC might not even sell this anymore, I didn't find it on their website at least. If anyone has any idea, let me know. :) I also heard a lot of good recommendations for the MAC Prolongwear concealer. I love my Catrice concealer, but these past few studying days have left me with sleepless nights and horrible under-eye bags in the mornings. I was yearning for a budge-proof super-coverage concealer, because nothing covered the annoying consecuence of sleepless nights.
And lastly, everyone here is really excited for the launch of Revlon's Colorburst matte and lacquer balms, I still haven't jumped on the chubby stick-esque lip product bandwagon ever since they became so popular and every make-up brand seems to have something along the lines of that, but the matte range really has some gorgeous dusky rose shades and I'm still on the lookout for my perfect plum shade!
Wow, I got a bit rambly, sorry about that. Anyways, if you have ANY recommendations about London, where to eat, where to shop, which brands to check out, what to see, just leave me a comment, I'll be super happy. :) I was really excited to hear that Tarte is coming to the UK, but I won't be able to check it out, since it arrives in March, when I'll already be long gone.
I have a few interesting posts coming up, including a special Valentine's Day edit for both taken and single ladies (yay!), a haul and a giveaway (featuring our favourite brand of make-up brushes *wink, wink*), so stay tuned! :)
Hope you're all doing well,
N. xx