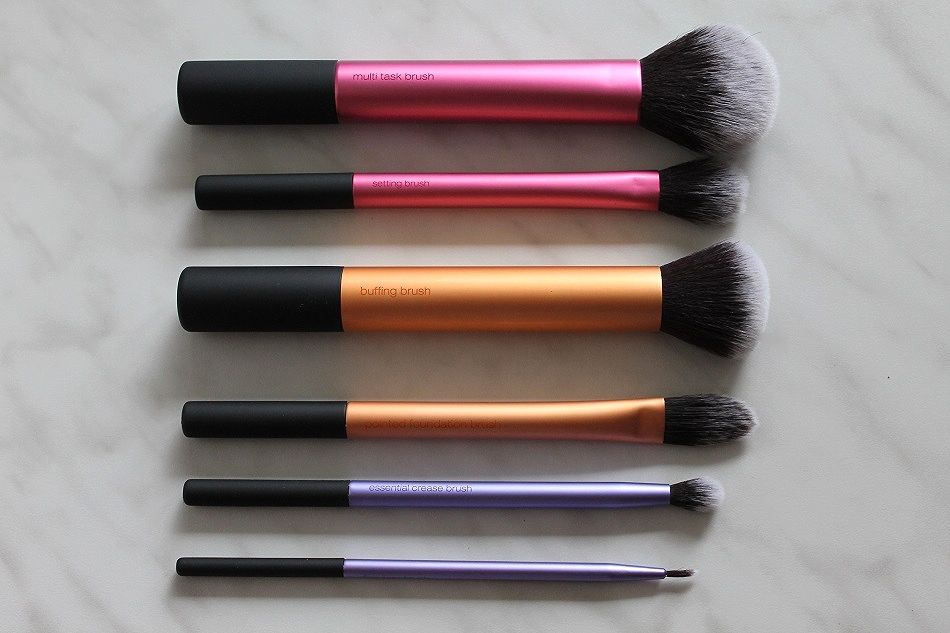 I came back from London on Thursday and I had a package from iHerb waiting for me. I finally received my beloved Real Techniques brushes I've been waiting for all February! It contains six brushes all together, a multi-task brush, a setting brush, a buffing brush, a pointed foundation brush, an essential crease brush (this set's exclusive) and finally a fine liner brush. I am most excited about the setting brush, which has been on my wishlist for absolute ages, the multi-task brush, which I'll be able to use for setting powder, bronzer, maybe even blush, and the crease brush, because I didn't have one until now and I've been getting more and more into eyeshadow, so this will make my life much easier. I'm not sure what I'll use the poited foundation brush for, maybe for under eye concealer or to apply one of my masks (we all know those can get pretty messy sometimes). I am currently using a liquid eyeliner by Bourjois, which comes with its own 'fine liner applicator' so I'll keep this one aside for the time being, but I'm sure it will be useful in the future. And lastly, this set contains one of the most famous RT brushes, the buffing brush. I already have their expert face brush, which I use every day for liquid or mineral foundation and has served me really, really well, so I don't really need another foundation brush. I'm pretty sure if I started using this one, the expert face brush would end up forgotten somewhere in my bathroom and I really don't want that, no matter how amazing the buffing brush is. I try to be as efficient as possible with my beauty products and that's why I decided to give it away to one of my readers. I'm sure the majority of my fellow beauty bloggers alredy have it, but I'm sure there are still girls out there who want to try it out. After watching countless YT videos and reading countless blog posts I can say this is one hell of a coveted make-up brush. If you want to receive it, all you have to do is this:
1. Answer the following question in the comments:
What is the most embarrasing or funny make-up or beauty related thing that has happened to you?
2. Leave your email in the Rafflecopter below.
a Rafflecopter giveaway
3. You can like my Facebook page, or follow me on Bloglovin', Instagram and Twitter. (
This is completely optional, but I will be very happy if you do. :)
)
The most embarrasing thing that has happened to me regarding beauty is probably when I was trying to comment on one of
Jana
's Instagram photos with her favourite figs (in Slovene, saying how much I love figs as well), and I somehow accidentally commented on another girl's photo of two Essie nail polishes. Her response was: 'Hello, I don't understand your language, but thank you! :)' You can imagine how weird it looked, a photo of Essie nail polishes and my comment in Slovene, saying: 'Awww, I love figs so much! :))' and the girl obviously though I was complementing her Essie polishes in another language. :D
The giveaway is open
internationally until March 1st
, I will choose the winner myself, send them an email and they will have
48 hours
to write back. If I don't receive an answer, I will choose another person.
I look forward to reading your embarrasing stories! :)
Love,
N. xx