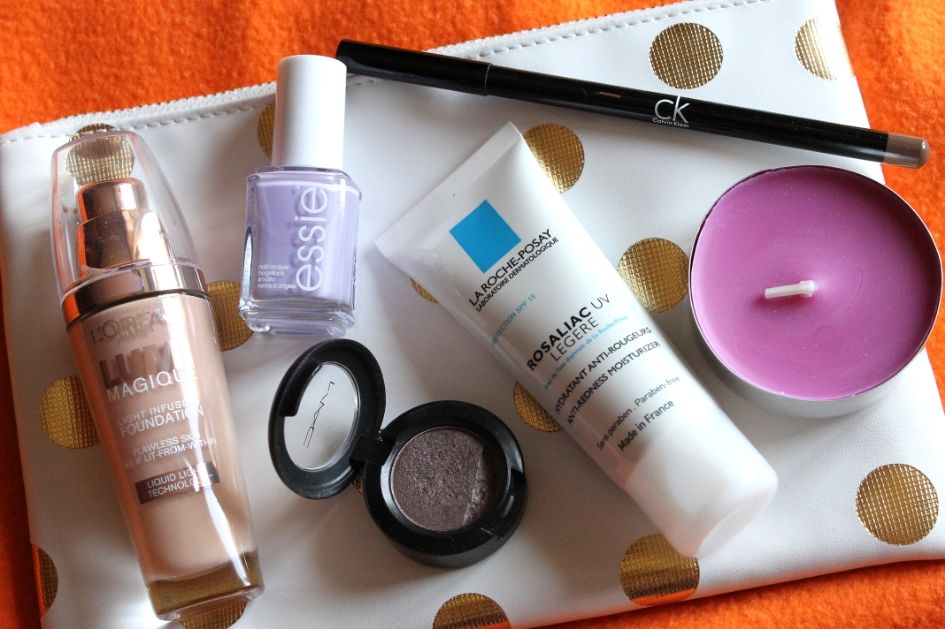 March is ending and it's time for another favourites post. This month I don't have a lot of things to show, because I have been mainly still adoring the products I mentioned in my
February Favourites post
, but I do have some new acquisitions and some old flames reignited.
First of all, there's a new liquid foundation I've been using, the
L'Oréal Lumi Magique Light Infusing foundation
. I bought it on
Živa
's recommendation and she just posted a
review
of it yesterday, so be sure to check it out! I don't want to go on and on about it, as she explains everything really well. It found its way in my March Favourites post for a reason as it really is as good as everyone says. It has light to medium coverage, which is perfect now that my breakout is clearing up, it leaves a wonderful dewy glow, even when mattified with a setting powder and I really love it! I bought the lightest shade,
Rose Porcelain
, which is still just a tad darker than my natural skin tone, so I've been mixing it with the
LRP Rosaliac UV Legere anti-redness moisturizer
and it comes off great. I will do a separate post on both of them later on this week.
Next is the newest addition to my Essie collection, Lilacism. I took a bunch of photos today, so if you're interested how it looks on, you'll find out soon. :) It is a gorgeous spring shade and it look lovely on lighter skin tones. I've been reaching for it more than Fiji this month.
While organizing my make up collection I stumbled upon MAC Satin Taupe, which I got as a gift from my friend Mojca a while ago and for some odd reason didn't use a lot this past year. It is a gorgeous natural brown shade, perfect for smokey eye looks or for a natural make up look. I dropped it once in the bathroom and some of it shattered, which PAINS ME, but oh well, I do drop 99% of the things that pass my hands, so.
Last of my beauty favourites is the Calvin Klein brow pencil in Dark Blonde. I was never too keen on doing my eyebrows, simply because I couldn't be bothered and I didn't know how. I started getting more into it lately and I occasionally use this pencil if I want a more polished look. Otherwise I don't reach for eyebrow products as much. I don't feel the need to, because my eyebrows are naturally full. Is that a thing, do we say our eyebrows are 'full' if they're not sparse? Hashtag dyslexic Monday.
My random favourites of this month:
TV Show: Girls
There is a few new TV shows I started watching, namely Black Sails and Da Vinci's Demons. They are quite nice, but I wouldn't say I'm obsessed with them. I am, however, really impressed with Girls. I used to almost give up on it, because sometimes it can leave you with such a weird after taste (those who watch will understand) but lately the writing has been amazing, especially concerning Marnie and Shosh, really interesting twists and character development!
Movie: Snatch
I went back to an old favourite that I haven't watched in a really long time. I love Guy Ritchie's movies and this is one of my all time favourites. :)
I hope you had a wonderful March and I wish you an even better April! :)
N. xx