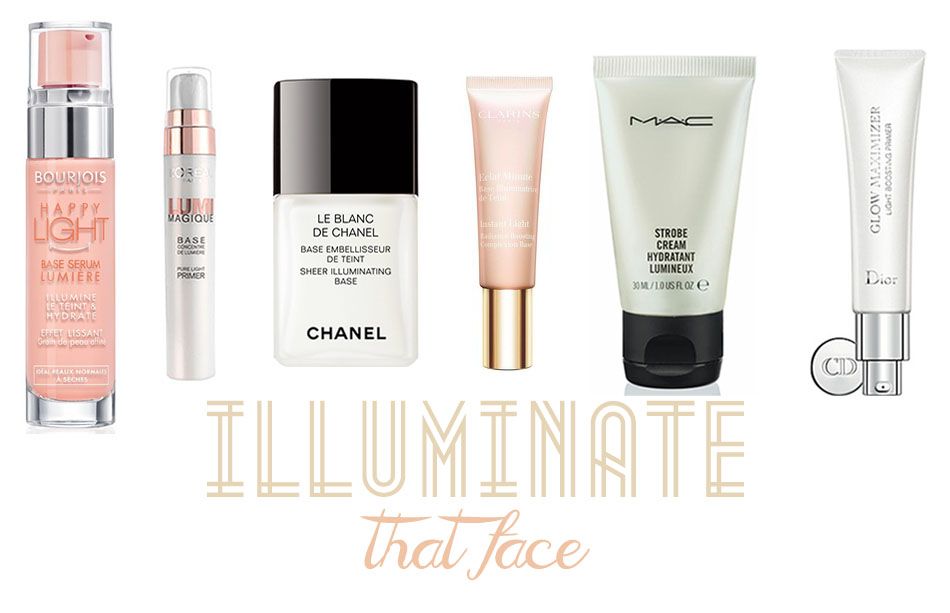 It is spring now (*ignores the fact that she saw full on hardcore snow yesterday morning*) and it's only fair I do a little collage of the most popular radiance boosting & illuminating bases and primers! I love a bit of glowy skin in the warmer months and what better way to achieve that than with an illuminating primer underneath my foundation?
The most raved about in the blogging community have to be the Dior Glow Maximizer Light Boosting Primer, The Le Blanc de Chanel Sheer Illuminating Base and Clarins' new spring release, the Instant Light Radiance Boosting Complexion Base. I have the latter on my wishlist, simply because it is a bit cheaper than the Le Blanc de Chanel and more accessible than MAC's Strobe Cream. I've also read some raving reviews of the Dior Glow Maximizer, which I would also love to try out as I was so happy with the Diornude BB Cream.
It's nice to be smart with your money, as I try to be constantly, but it's also nice to treat yourself every once in a while. The nice thing about these products is that you can use them not only as primers, but also as highlighters or to mix them with a foundation for a sheerer coverage. They're also perfect for sick days, when you're looking rather dull and oh so tired. If I'm sick and need to go to the doctor's or to the pharmacy, I love adding a bit of radiance to my skin, just to make myself feel a tad more presentable after spending a week hiding underneath a pile of snotty tissues. The doctor might not believe me I'm sick, but at least I won't look like a dead body they just pulled out of the river. Getting graphic here, okay.
These all circle around the high price mark, so if you're on a budget, you can get yourself a Bourjois Happy Light Lumiére Base Serum or the L'Oréal Lumi Magique primer, which are a good choice for a lower price.
Do you have any of these or are they on your wishlist? :)
Have a nice Wednesday,
N. xx