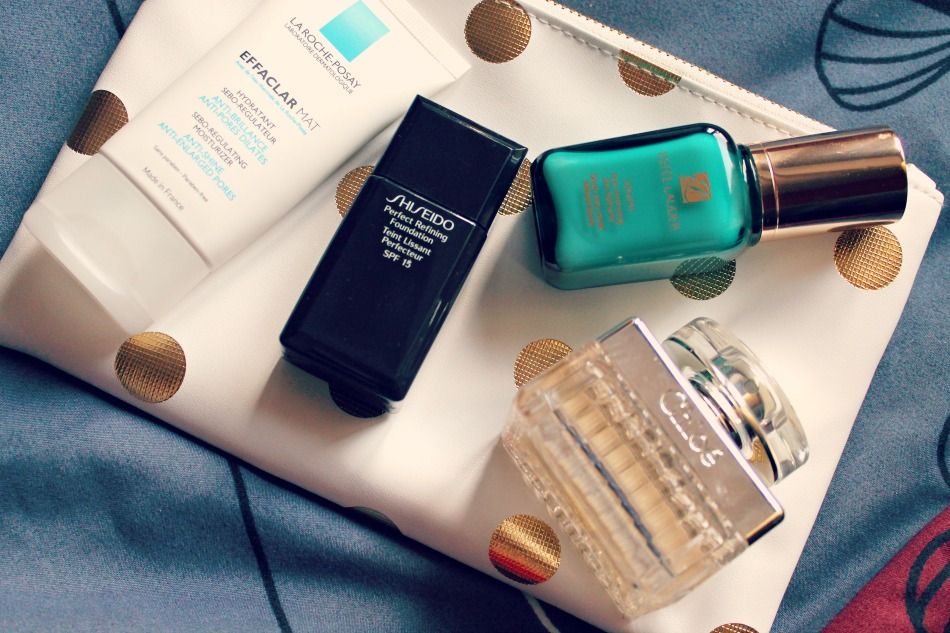 Weekend finally! I was very busy with work this week and too tired to do anything productive when I came back home. Today was a bit easier as I have the whole weekend to myself ahead of me. As I was tidying up in the bathroom I came across some really cool gifted and borrowed things. My mom is an even bigger skincare and beauty lover than I (and apart from me, she's not buying on a student budget) so from time to time I get to try some high end products she buys and decides aren't her cup of tea. Inspired by her and tormented by the memories of my 1st year Uni make-up collection (consisting of Essence products only) I recently made the decition to start investing in more high end brands as I find some of the less expensive drugstore products a waste of my money. I'm not saying there's something wrong with Essence, it's an awesome brand for an awesome price. I still have some of their products that work just fine, and I buy them still, but I think it would be nice to start investing in some more higher quality products, or at least try to find a nice balance between drugstore and high end.
The
La Roche Posay Effaclar Mat Moisturizer
was a gift from my girl
Gita
and it's the perfect sebum-control day cream for days when my skin tends to get oily. I'm talking about those really warm days. For the past two days I was basically boiling in my car on the way from work and this was a nice touch after I got from the shower at home. My mom is super impressed with it as well, and she knows her stuff. :)
I have never tried anything from Shiseido before and I found this Perfect Refining Foundation with SPF 15 (it comes in the tiniest bottle, it so cute) in my mom's stash. She is constantly looking for the perfect foundation for her oily/problematic skin, but almost everything she tries breaks her out. I currently have a thing for foundations (no idea why) and I said I have to try this out. When I swatched it on my skin it seemed really thin and lightweight, perfect for summer days.
I have also noticed the pores around my nose are starting to appear larger. Maybe it's just me, but I think it's even more noticeable when I wear make up. That's where the Estée Lauder Idealist Pore Minimizer Skin Refinisher comes in. It has a very lovely citrus scent and it comes in a gorgeous opal green little bottle with gold detailing. I only tried it a few times and I didn't use it consistently, so I can't provide a proper impression yet. It is on the pricy side, so I probably wouldn't buy this on my own accord. If you have any less expensive, but still effective pore minimizing alternatives, do share! :)
And finally, the Chloé signature perfume. I already have the Chloé Love perfume and I simply had to take a sniff of this when my mom picked us up at the airport when we returned from London. Her perfume collection is huge and she goes through them soo fast. I only have two or three and they last me ages, so I tend to borrow a spritz or two from her stash when I get bored with mine.
Do you borrow your mom, sister or friend's products? :)
Have a great weekend,
N. xx