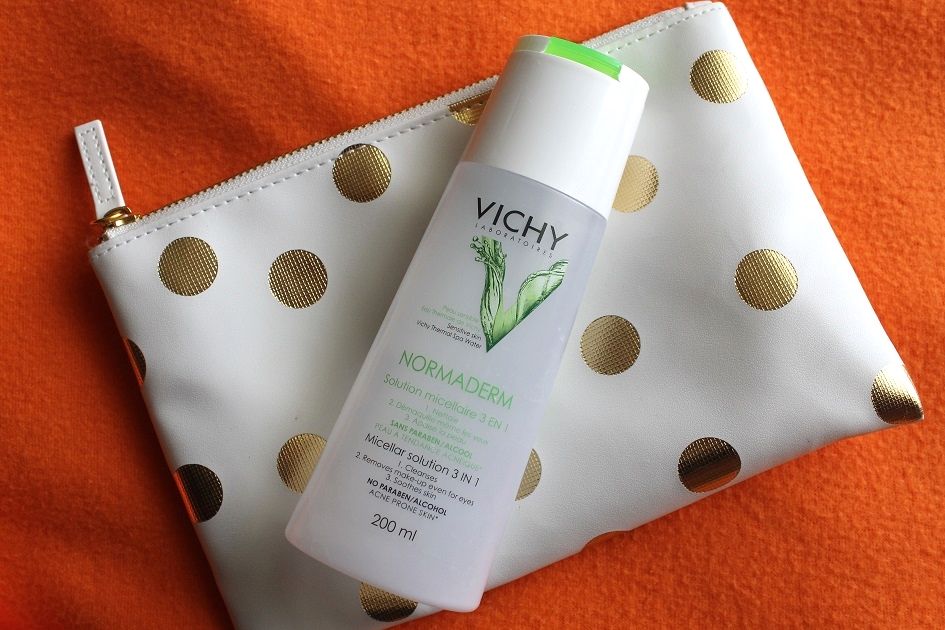 Vichy Normaderm 3 in 1 Micellar Solution
Since I moved back home for a year, my mom and I realized two women in one bathroom make one hell of a crowd. So we decided to share some of our most used products. One of which would be micellar solution/make-up remover. I buy one, then she buys one, etc. I was recently chosen as one of the winners in a photo competition held by La Roche Posay Slovenia on their FB site and as a reward I was promised a 400 ml bottle of their célèbre micellar solution (one of my all time favourites, by the way). I am still waiting for that to arrive, so I decided to do a review of the one we just used up.
This 3 in 1 micellar solution is part of Vichy's Normaderm line, which is destined for people with sensitive, acne-prone skin and promises to cleanse & soothe the skin and remove your make-up. It doesn't contain any parabens and is alcohol free. What it does contain (and lots, according to their website) is zinc. Zinc is an ingredient you'll find in many skincare products as it is very effective in battling acne, removing excess sebum and repairing the damaged skin around the acne. I have even read that in certain cases, acne can develop due to lack of zinc in your diet.
I usually applied this solution on two cotton pads, then gently swiped them all over my face, turned them around and used them to remove my eye make-up. I learned not to rub them over my eyelids like there was no tomorrow, instead I just gently tapped the cotton pads on my eyelids and waited for the make-up to dissolve on its own. I was quite happy with it as it didn't sting my eyes and the packaging is much friendlier than the last micellar solution I used - the L'Oréal Skin Perfection 3 in 1 Purifying Micellar Solution. That little bugger spilled all over my bathroom.
If you have acne prone skin, there's another profuct from Vichy's Normaderm line I'd recommend and it's the
Hyaluspot Gel Acne Treatment
, which I reviewed
here
.
Have you tried anything from the Normaderm line? :)
I hope you've had a lovely weekend!
N. xx